Zita von Bourbon-Parma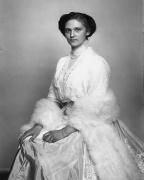 © Copyright
Zita, Empress of Austria. Photo by d'Ora, 1917.
---
Zita von Bourbon-Parma, b. Villa Pianore (Italy), May 9, 1892, d. Zizers (Switzerland), March 14, 1989, last Empress of Austria; 1911 married Karl I of Habsburg, who became Emperor in 1916, mother of Otto Habsburg-Lothringen. Had considerable influence on the decisions of her husband. In 1917 she provoked the Sixtus Affair. After the death of her husband in 1922 she moved to Spain, in 1929 to Belgium and in 1940 to Canada. Engaged in charity work from 1944 to 1948, lived in Switzerland from 1962 and was allowed to enter Austria in 1982.
---
Literature: E. Feigl, Kaiserin Z., 51991; J. Sévillia, Z. Kaiserin ohne Thron, 1998.
---
References to other albums:

---