Willmann, Otto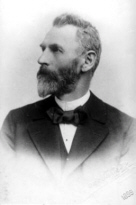 © Copyright
Otto Willmann, photo, 1899
---
Willmann, Otto, b. Lissa, (Leszno, Poland), April 24, 1839, d. Litoměřice, Czech Republic, (then Leitmeritz), July 1, 1920, catholic philosopher and educationist, Professor in Prague from 1872-1903. His religious ideas, based on Catholic, Aristotelian and Thomist teachings combined with social and historical interests, had considerable influence on teaching theory.
---
Works: Didaktik der Bildungslehre, 2 vols., 1882/89; Geschichte des Idealismus, 3 vols., 1894-1897. - Edition: Complete works, ed. by H. Bittermann-Willmann, 10 vols., 1968-1979.
Literature: B. Hamann, Grundlagen der Pädagogik O. W., 1965; E. Kumhofer, O. W. Reform der Lehrerbildung im 19. Jh., master´s thesis, Vienna 1998.
---