Werger, Stefanie "Steffi"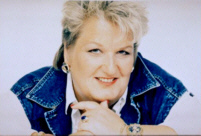 © Copyright
Stefanie Werger, photo, 1996
---
Werger, Stefanie ("Steffi"), b. Köflach (Styria), July 2, 1951, composer, singer. Studied violin at the Graz School of Music, then taught music for 4 years in the town of Köflach. Began her career as a pop-singer in the 1970s; representative of Austrian pop-music.
---
LPs and CDs: Zerbrechlich, 1983; Wendepunkt, 1984; Lust auf Liebe, 1985; Lebenszeichen, 1994; Mit uns die Zeit, 1998.
---