Weigel, Hans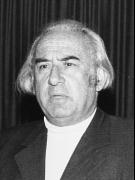 © Copyright
Hans Weigel, photo
---
Weigel, Hans, b. Vienna, May 29, 1908, d. Maria Enzersdorf (Lower Austria), Aug. 12, 1991. Theatre critic and writer. Life companion of E. Ott. Until 1938 worked in revue ensembles in Vienna, 1938-1945 in exile in Switzerland. 1946 began working as a highly respected theatre critic for "Neues Österreich" and "Kurier" and other papers. W. is considered to have discovered I. Bachmann and G. Fritsch. In his anthology series "Stimmen der Gegenwart", published 1951-1954, he furthered mainly young authors; as a language critic, he continued the tradition of Austrian authors with a sceptical attitude towards linguistic fads ("Die Leiden der jungen Wörter", 1974).
---
Further works: Dramas: Axel an der Himmelstür, 1926; Barabbas, 1946; Angelica, 1948; Die Erde, 1948; Das wissen die Götter, 1950. - Novels: Der grüne Stern, 1946; Unvollendete Symphonie, 1951. - Essays: O du mein Österreich, 1956; Masken, Mimen und Mimosen, 1958; Flucht vor der Größe, 1960; A. Hörbiger, 1963; K. Kraus, 1968; Das Land der Deutschen mit der Seele suchend, 1978; Ad absurdum, 1980 (satires, parodies); 1001 Premiere, 2 vols., 1983 (theatre reviews); Ad absurdum, 1980 (satires, parodies); Nach wie vor Wörter, 1985 (literary reviews); Das Abendbuch, 1989; Das Scheuklappensyndrom, 1990. Translations (Molière).
Literature: W. Obermaier (ed.), H. W., exhibition catalogue, Vienna 1988; E. Vujica, Im Dialog mit H. W., 1998.
---