Walther von der Vogelweide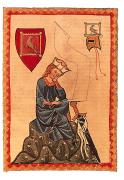 © Copyright
Walther von der Vogelweide, book illustration (Manessische Handschrift, University Library, Heidelberg)
---
Walther von der Vogelweide, most important and also most successful minnesinger and German-language poet of the Middle Ages. Of his work, 500 verses in 110 songs, 90 songs, 150 poems and one lay have been preserved. He is mentioned in only one document: Wolfger von Erla, Bishop of Passau, gave him "5 Solidi longi" for a fur coat on Nov. 12, 1203. It is presumed that he was born around 1170; his background is equally unclear. From his work, it can be seen that he first worked as a minnesinger in Vienna and became a travelling poet after the death of Duke Friedrich I (1198). He performed at different ducal courts (Thuringia, Meissen, Cologne, Bavaria, Passau, Carinthia) as a poet, the literary field in which he was most successful Epigrammatic Poetry. The themes included politics and religion. His political poems deal mainly with the question of who would be the best sovereign; in this context he also attacks the pope's influence on politics. His religious poems and songs ("Palästinalied") impress with their poetic force. As a minnesinger, W. von der Vogelweide first concentrated on the spiritual and social relevance of the Hohe Minne (idealised love for a noble lady which can never be returned); during his time in Vienna he was a serious rival of Reinmar "the Old". In his so-called "Mädchenlieder" ("Unter der linden", "Nemt frowe diesen Kranz"), he developed the concept of the Niedere Minne (love which can be returned) and finally found a synthesis between idealistic demands and successful wooing in the so-called Ebene Minne, thus opening up new aesthetic perspectives for the Minnesong. His extraordinary artistic talent shows most impressively in the poems he created in his old age; they can be clearly distinguished from his earlier work. The most famous of these poems is the so-called "Elegie" ("Owê war sint verswunden alliu mîniu jâr"), which is one of the most important texts in German literature. According to the obituaries written by other medieval poets, W. must have died in Würzburg (in present-day Germany) around 1230, where he held a small fief.
---
Editions: Leich, Lieder, Sangsprüche, 14th revised edition of K. Lachmann´s edition, ed. by C. Corneau, 1996 (this edition is based on the order of the poems); Werke, ed. by J. Schaefer (with translation into modern German and commentary), 21987; Gedichte, ed. by P. Wapnewski (with translation into modern German and commentary), 181988.
Literature: K. H. Halbach, W. v. d. V., 41983; G. Hahn, W. v. d. V., 1986; M. G. Scholz, W. v. d. V., 1999.
---
References to other albums:

---