Tandler, Julius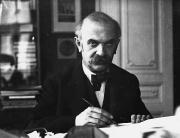 © Copyright
Julius Tandler. Photo, 1930s.
---
Tandler, Julius, b. Jihlava, Czech Republic (then Iglau), Feb. 16, 1869, d. Moscow (Russia), Aug. 25, 1936, physician and Social Democratic politician. From 1910 university professor in Vienna, 1919/1920 subordinate Staatssekretär of Public Health, 1919-1934 member of the provincial government of Vienna, where he established several social institutions such as: kindergartens, dental clinics for school children, child-care centres and mother-and-child welfare services; promoted especially sports for workers. 1936 was called to Moscow as consultant for hospital reforms.
---
Publications: Anatomie des Herzens, 1913; Die biolog. Grundlagen der sekundären Geschlechtscharaktere, 1913; Topographie dringl. Operationen, 1916; Lehrbuch der systemat. Anatomie, 4 vols., 1918-1924; Das Wohlfahrtsamt der Stadt Wien, 1931.
Literature: A. Magaziner, Der Wegbereiter, 1975; K. Sablik, J. T., Mediziner und Sozialreformer, 1983; W. Maderthaner (ed.), H. Breitner, J. T., 1997.
---
References to other albums:

---