Stolz, Robert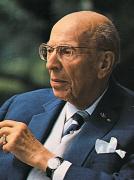 © Copyright
Robert Stolz. Photo.
---
Stolz, Robert, b. Graz (Styria), Aug. 25, 1880, d. Berlin (Germany), June 27, 1975, composer (operettas, typical Viennese folk-songs, political and satirical songs), conductor. The decisive meeting with J. Strauß the Younger in 1899 made him turn to the operetta; from 1907 Kapellmeister at the Theater an der Wien; 1919 international breakthrough with "Hallo, du süße Klingelfee"; from 1924 in Berlin. 1938 emigrated to the USA, 1946 returned to Vienna; 1952-1971 musical director of the Vienna Ice Revue ("Wiener Eisrevue"); numerous guest performances abroad. Awarded the Austrian Decoration for Science and Art in 1975.
---
Works: 51 operettas and musicals: Venus in Seide; Manöverliebe; Sperrsechserl; Himmelblaue Träume; Mitternachtswalzer; Trauminsel. - Music for 98 sound films: Zwei Herzen im Dreivierteltakt; Ein Tango für dich; Herbstmanöver; Deutschmeister. - Opera: Die Rosen der Madonna. - Approx. 1,200 songs: Im Prater blühn wieder die Bäume; Adieu, mein kleiner Gardeoffizier; Wien wird bei Nacht erst schön. - Orchestral music, waltzes, marches.
Literature: G. Holm, Im Dreivierteltakt durch die Welt, 1948; W. D. Brümmel and F. van Booth, R. S., 1967; O. Herbrich, R. S., 1975; NÖB.
---