Sigmund von Tirol, Herzog ab 1477 Erzherzog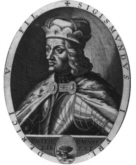 © Copyright
Archduke Sigmund von Tirol. Engraving by W. Kilian, 1623.
---
Sigmund von Tirol, b. Innsbruck, Oct. 26, 1427, d. Innsbruck March 4, 1496. Duke (Archduke from 1477) of Austria, sovereign in the Tyrol and Vorder-Österreich (the Habsburg lands in Southern Germany), son of Duke Friedrich IV; 1439-1446 under the guardianship of Friedrich III, then sovereign of the Tyrol (until 1463 Vorder-Österreich was ruled by Albrecht VI, subsequently turned over to S. v. T.) and later Emperor. In the beginning his rule was decisively influenced by a dispute with the bishop of Brixen/Bressanone Nikolaus von Cues. He was under the strong influence of favourites, but governed the Tyrol well until around 1480, moved the mint from Meran/Merano to Hall in 1477, had the first Taler silver coin struck there and built important roads. Initiated the building of the Hofburg palace in Innsbruck from 1460.
He was very talented, but led a life of indulgence. While his marriages (Eleonora of Austria, Katharina of Saxony) remained childless, he is said to have fathered numerous illegitimate children. He adopted Maximilian I, which meant that the Tyrol passed to the only surviving Styrian line of the Habsburgs. During the witch-hunts of 1485 he proved sympathetic to the belief in witchcraft. His epithet "der Münzreiche" (rich-in-coins) was first recorded in 1506.
---
Literature: Erzhzg. Sigmund der Münzreiche, exhibition catalogue, Hall in Tirol 1986.
---
References to other albums:

---