Schütte-Lihotzky, Margarete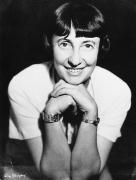 © Copyright
Margarete Schütte-Lihotzky, photo
---
Schütte-Lihotzky, Margarete, b. Vienna, Jan. 23, 1897, d. Vienna, Jan. 18, 2000. Architect. 1915-1919 studied architecture at the Vienna School of Arts and Crafts (first woman in Austria); from 1920 work for the Vienna Suburban Movement (among others with A. Loos); 1926 at the department of structural engineering in Frankfurt am Main. Between 1926-1928 she developed the "Frankfurt kitchen", which had a lasting world-wide influence. Married the architect W. Schütte in 1927, worked in the Soviet Union with a Frankfurt group from 1930 (housing schemes for workers, schools and kindergartens). At the Academy of Fine Arts in Istanbul in 1938; arrested as a communist and member of the Resistance in Vienna in 1940 and sentenced to death, but escaped. Went to Sofia in 1946 (several children´s homes), returned to Vienna in 1947, very few commissions for political reasons; concentrated on writing and political work for women and peace. Awarded the Austrian Decoration for Science and Art in 1993 and numerous other prizes and awards.
---
Further works: Winarsky-Hof and Otto-Haas-Hof housing schemes, Vienna 20th district, 1924/25 (with others);; various terraced houses, central laundry and school in Frankfurt-Praunheim, 1926-1929; 2 houses for the Werkbundsiedlung housing scheme, Vienna 13th district, 1930-1932; Globus printery and publishing building, Vienna 20th district, 1953-1956 (with W. Schütte and others); Rinnböckstraße kindergarten, Vienna 11th district, 1961-1963. - Publication: Erinnerungen aus dem Widerstand, 1985.
Literature: K. Schwanzer and G. Feuerstein, Wr. Bauten 1900 bis heute, 1964; F. Achleitner, Ö. Architektur im 20. Jahrhundert, vol. 2, 1983 and vol. 3/1, 1990; Magistrat der Stadt Wien (ed.), Architektur in Wien, 1984; M. S.-L. Soziale Architektur, ed. by P. Noever, 21996.
---