Schumpeter, Joseph Alois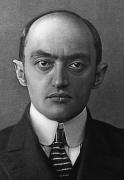 © Copyright
Joseph Alois Schumpeter, photo
---
Schumpeter, Joseph Alois, b. Trešt ,Czech Republic (then Triesch), Feb. 8, 1883, d. Taconic (USA), Jan. 8, 1950. Economist. Taught first in Chernovtsy, then in Graz in 1911, Bonn 1925-1932 and at Harvard University from 1934. Had little success as bank director and minister of finance (1919). Became known through his theory of business cycles and his emphasis on the essential role of entrepreneurs for economic growth. Made major contributions to the development of economics in the USA.
---
Works: Das Wesen und der Hauptinhalt der theoret. Nationalökonomie, 1908 (reprint 1970); Theorie der wirt. Entwicklung, 1912; Kapitalismus, Sozialismus und Demokratie, 1942; H. Hanusch (ed.), The Legacy of J. A. S., 2 vols., 1999 (estate).
Literature: E. Schneider, J. S., 1970; R. L. Allen, Opening Doors. The Life and Work of J. S., 2 vols., 1991; R. Swedberg, J. A. S., 1994; ÖBL.
---