Sankt Veit an der Glan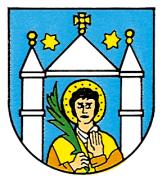 © Copyright
Coat of arms (St. Veit an der Glan).
---
Sankt Veit an der Glan, Carinthia, city in the district of Sankt Veit an der Glan, alt. 482 m, pop. 12,045, area 50.72 km2, situated on the north-eastern edge of the Glan valley. - District Commission, district court, hunting administration, police headquarters, employment services, tax office and office of surveying, Chamber of Labour, Vocational Training Institute, Economic Chamber, Chamber of Forestry and Agriculture, Bundeslehr- und Versuchsanstalt education and research institute for plant cultivation, Hospital of the Knights Hospitallers, regional health insurance agency, advice centre for alcoholics, centre for social services, counselling centre, railway museum, indoor sports centre, race track, indoor animal husbandry complex, KELAG (regional management north, school for apprentices, transformer station), Bundesrealgymnasium and Bundsrealgymnasium secondary schools, advanced-level commercial school, vocational school, academy for environmental studies; Wiesenmarkt market (late September), Literaturwoche literature festival (September); 5,817 employed persons (1991), of whom around 70 % in the service sector (personal, social and public services, commercial enterprises); wood processing industry (Funder Industrie GmbH), leather and construction materials industries, construction firms, factory specialising in pyrotechnical products, compost plant; tourism (33,537 overnight stays in 1992). - First documented mention in 1224 as a town, belonged for a time to the Bamberg family, but came into the possession of the Sponheim family in 1170 at the latest (ducal castle), capital of Carinthia until 1518, mint (1205-1725, with interruptions), economic importance increased primarily due to the granting of an iron trading privilege (1399-1781). The old town centre is almost entirely surrounded by the medieval city walls (15th century) and the former moat; Romanesque late Gothic city parish church with a richly carved high altar (1752), side altars and pulpit by J. Pacher, Romanesque charnel house with minute interlacing stonework and late Gothic crucifix (around 1516); early Gothic monastery church dedicated to the Virgin Mary (from 1323 the Poor Clares, after 1640 Franciscans, dissolved1786) with high altar (1734) by J. Pacher; Calvary church (1658); former hospital church (14th century) houses a satellite museum; city hall (15th century, redone in 1754/1755) with stucco façade, large hall and arcaded courtyard (around 1540); Carinthiahaus, the so-called ducal castle (1523-1529, museum of local history); fountain with basin (1566) and "Schüsselbrunnbartele" statue (late Gothic bronze figure), basin dating from Roman times from Virunum; Floriani fountain with a figure of Walther von der Vogelweide; Baroque plague column (1715/1716); Kölnhof Castle (originally Gothic, redone in 1778 and 1884) and Weyer Castle (Renaissance, 1532), fortifications (16th century) with large courtyard and arcaded façade; the Romanesque parish church of Sankt Donat is located within the municipal limits, alterations in Baroque style, altar (1747) with Gothic Madonna, Roman inscription and relief stones from the settlement of Virunum.
---
Literature: H. Pressinger, Sankt Veit an der Glan: Eine Stadtgeographie, doctoral thesis, Graz 1965; S. Hartwagner, Der Bezirk Sankt Veit an der Glan, seine Kunstwerke, historische Lebens- und Siedlungsformen, 1977.
---