Rainer, Arnulf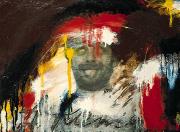 © Copyright
Arnulf Rainer, "Zünglein ohne Waage" (self-portrait). Painting, 1975 (Galerie Ulysses, Vienna).
---
Rainer, Arnulf, b. Baden (Lower Austria), Dec. 8, 1929, painter. Important representative of abstract informal art in Austria. Initially influenced by surrealism (founded the "Hundsgruppe" 1950 with E. Fuchs, A. Brauer and J. Mikl), from 1954 turned to the "destruction of form" such as painting in black or completely or partially painting over prints and photos, a style that has dominated his work ever since; occasional similarities with Wiener Aktionismus (body paintings, working under the influence of drugs). 1978 Austrian representative at the Biennale in Venice and recipient of the Grand Austrian State Prize, 1981-1997 professor at the Academy of Fine Arts in Vienna. In 1993 the A. R. Museum was opened in New York.
---
Literature: Raineriana, Aufsätze zum Werk von A. R., ed. by O. Rychlik, 1989; E.-G. Giese, A. R. Malerei 1980-1990, 1990; J. Schütt, A. R. Überarbeitungen, 1994; C. Aigner et al. (eds.), A. R. Retrospektive 1947-1997, 1997; W. Hofmann, A. R. konstruktive Destruktion, 1997; I. Brugger (ed.), A. R. - Gegen.Bilder, exhibition catalogue, Vienna 2000; R. H. Fuchs, A. R. Noch vor der Sprache, exhibition catalogue, Stedelijk Museum, Amsterdam 2000.
---