Prutscher, Otto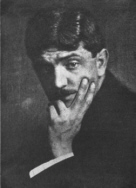 © Copyright
Otto Prutscher, photo 1910
---
Prutscher, Otto, b. Vienna, April 7, 1880, d. Vienna, Feb. 15, 1949, architect and designer, brother of Hans Prutscher. Initially studied in Paris and London, from 1897 at the Vienna School of Arts and Crafts under F. Matsch sr. and Josef Hoffmann, from 1909-1938 and 1945-1946 also taught there. Especially 1918-1938 prominent figure in arts and crafts in Vienna, co-founder of the Wiener Werkstätte, designed furniture, jewellery, ceramics and book-covers.
---
Works: Villas and houses in Lower Austria (Baden, Mitterbach, Erlaufsee), Styria (Mariazell) and Austria-Silesia (Jägerndorf). - Council housing estates in Vienna: Heinehof, 5th district; Lorenshof, 12th district. - Interior of the Dianabad public swimming baths, 2nd district of Vienna, 1913-1917 (demolished in 1967).
Literature: M. Boeckl, O. P. 1880-1949, exhibition catalogue, Hochschule f. angew. Kunst in Wien, 1997.
---