Porzellanmanufaktur Augarten Ges. m. b. H., Wiener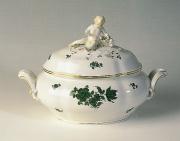 © Copyright
Porzellanmanufaktur Augarten: tureen with putto, decor Maria Theresia.
---
Porzellanmanufaktur Augarten Ges. m. b. H., Wiener, founded in 1923 "to renew and continue the former state-owned (Ärarial-)-Porzellanmanufaktur" in Augarten Palace, successor to the factory founded by Du Paquier in Vienna in 1718 (after Meißen the second oldest European porcelain factory); it was taken over by the state in 1744 and closed in 1864. The trademark of "Augarten-Porzellan" is the Striped Shield (from 1744 to 1749 pressed into the porcelain, after 1749 in under-glaze blue, since 1827 stamped into the porcelain; the same mark has been used by other companies, either up-side down - as "beehive" or upright). The variety of shapes and decors which reflected the trend of the time had already made Viennese products famous by the 18th and 19th  centuries. Artistic highlights were reached under Du Paquier and the directors Conrad Sörgel von Sorgenthal 1784-1805 and M. Niedermayer 1805-1827 with the help of famous artists like A. Grassi, A. Kothgasser, G. Perl and J. Leitner ("Leitner-Blau", a special blue named after the artist). After 1932 artists like Josef Hoffmann, F. Zülow, F. Barwig and M. Powolny quickly brought the newly founded enterprise international fame with their designs. Along with the production of traditional shapes and decors, co-operation with artists (W.Hutter, A. Brauer, K. Spurey) continued to remain an important focus even after 1945. A painting school was founded in 1985.
---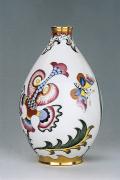 © Copyright
Porzellanmanufaktur Augarten: vase designed by Franz Zülow, 1925.
---
Literature: W. Neuwirth, Wiener Porzellan. Original, Kopie, Verfälschung, Fälschung, 1979; idem, Wiener Porzellan 1718-1864, 1983; idem, Wiener Porzellan vom Spätbarock zum Art Deco, 1990; W. Seipel (ed.), Weißes Gold aus Europa, exhibition catalogue, Kunsthistorisches Museum, Vienna, 1997.
---
References to other albums:

---