Pittermann, Bruno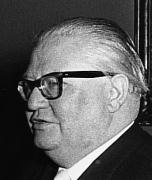 © Copyright
Bruno Pittermann. photo, around 1960.
---
Pittermann, Bruno, b. Vienna, Sept. 3, 1905, d. Vienna, Sept. 19, 1983, teacher and politician (Austrian Socialist Party, SPÖ). 1934 imprisoned and during the Nazi regime politically persecuted. From 1945-1971 member of the Nationalrat, 1950-1957 deputy leader of the SPÖ in the province of Vienna, 1957-1967 federal party chairman of the Sozialdemokratische Partei Österreichs (Austrian Socialist Party), 1956-1970 chairman of the SPÖ parliamentary group, 1964-1976 President of Socialist International. 1957-1966 Vice-chancellor, 1959-1966 in charge of planning in the nationalised industries. Played a key role in the fall of F. Olah and in reconciling the SPÖ with the Catholic Church and with former opponents from the period between the wars.
---
Literature: W. Maderthaner (ed.), B. P. Ein Portrait, 1995.
---