Olbrich, Joseph Maria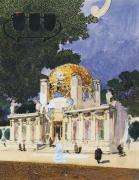 © Copyright
Joseph Maria Olbrich, Secession. watercolour, 1897 (Historisches Museum der Stadt Wien)
---
Olbrich, Joseph Maria, b. Opava, Czech Republic (then Troppau), Dec. 22, 1867, d. Düsseldorf (Germany), Aug. 8, 1908, architect. 1893-1899 worked as a draftsman for O. Wagner; being one of the originators of the Vienna Secession he designed its exhibition building, which paved the way for modern architectural conceptions of form. In his striving for a gesamtkunstwerk (total work of art), O. also dealt with interior decoration and with designs for arts and crafts. In 1899 he was called to Darmstadt to plan the "Künstlerkolonie" (Artists' Colony); also designed numerous other buildings and town planning projects (Düsseldorf, Cologne, Berlin), some of which were not built. The O.-Haus in St. Pölten is one of his few buildings that are still preserved.
---
Works: Architektur, 3 vols., 1901-1914 (reprint 1988, with text contributions by P. Haiko and B. Krimmel).
Literature: J. Latham, J. M. O., 1981; ÖBL.
---
References to other albums:

---