Napoleonische Kriege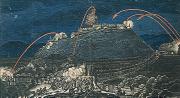 © Copyright
Napoleonic Wars: "Belagerung und siebenmahl mißlungener Sturm" auf Graz am 13. Juni 1809. Coloured Engraving.
---
Napoleonic Wars: Austria was involved in all wars that France fought in Europe at the time of the French Revolution and especially under Napoleon I. Austria, Prussia, (left the Coalition in 1795) England, the Netherlands, Spain and Sardinia were all involved in the war of the First Coalition. Napoleon won the war in 1797 due to his advance into Styria. (Peace of Campoformido). Austria, Russia, England, Naples, the Papal State and the Ottoman Empire participated in the war of the Second Coalition (1799-1802); Napoleon´s troops managed to advance into Lower Austria (the River Erlauf was the line of demarcation) until peace was concluded at Lunéville. In the war of the Third Coalition Austria formed an alliance with Russia, England and Sweden. Napoleon forced Austria to capitulate at Ulm, occupied Vienna and won in the Battle of the Three Emperors at Austerlitz (Slavkov u Brna, Czech Republic) in Moravia on December 2, 1805. The Peace of Preßburg ended this war. After a comprehensive military reform, the establishment of a national militia and under the impression of Spanish resistance, Austria once again declared war on France on April 9, 1809. At the same time a rising of peasants took place in Tyrol. Napoleon again occupied Vienna, but was defeated in the Lobau, an island between the Danube and one of its arms, near the town of Aspern and at the town of Eßling. However, he defeated the Austrians on July 5 and 6, 1809 in the battle of Wagram. In the Peace of Schönbrunn the Habsburg empire became completely landlocked and Tyrol was abandoned by the Austrian government. As a consequence Austria went through a phase of state bankruptcy. Austria was forced to participate in Napoleon´s Russian campaign but hardly suffered any losses. On August 8, 1813, Austria joined the allied Russians, Prussia and Sweden. Under the supreme command of Prince Karl zu Schwarzenberg Napoleon was decisively beaten in the "Battle of Nations" of Leipzig (October 16 - 18, 1813); the allied armies entered France, Napoleon was forced to abdicate and the Vienna Congress, whose task it was to reorganize Europe, was convened. The Napoleonic Wars influenced the development of the Austrian Empire and caused the dissolution of the Holy Roman Empire.
---
Literature: Wiener Kongreß, exhibition catalogue, Vienna 1965; Napoleon in Österreich, exhibition catalogue, Pottenbrunn 1973; M. Glover, The Napoleonic wars. An illustrated history 1792-1815, 1975; D. D. Howard (ed.), Napoleonic military history. A bibliography, 1986.
---