Meinhard II., Graf von Tirol als Graf von Görz Meinhard IV.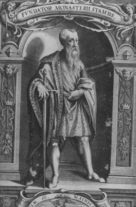 © Copyright
Count Meinhard II of Tyrol. Engraving, 18th century.
---
Meinhard II, Count of Tyrol (as Count of Gorizia Meinhard IV), b. around 1238, d. Greifenburg (Carinthia), end of October 1295, Count of Gorizia and Tyrol, Duke of Carinthia, son of Meinhard I, father of Heinrich VI. 1259 was released from captivity under the Archbishop of Salzburg and in 1271, when the estate was divided up, he inherited the county of Tyrol and established the Tyrol branch of the Meinhardiner family. M. was able to win the fiefs of Trento, in 1263-1284 acquired possessions in the Inntal (Saline Hall), made the streets safe and minted coins. Considered the founder of Tyrol (with its status as a separate administrative area). In 1273 his wife Elisabeth (widow of King Konrad IV) founded the Cistercian monastery at Stams (burial place of the Meinhardiner). As a supporter and assistant of King Rudolf I. M. received Carinthia and Carniola in 1276 as a pawn and in 1286 was invested with the duchy of Carinthia; was repeatedly excommunicated.
---
Literature: H. Wiesflecker, M. der Zweite, 1955; Eines Fürsten Traum. Meinhard II. - Das Werden Tirols, exhibition catalogue, Tirol Palace/ Stams 1995; NDB.
---