Leopold III., Heiliger, Babenberger-Markgraf, * 1073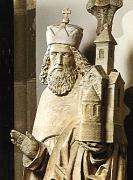 © Copyright
Margrave Leopold III. Statue, around 1460 (Klosterneuburg Monastery, Lower Austria).
---
Leopold III, Saint, feast day Nov. 15, b. 1073, d. Nov. 15, 1136, Babenberg Margrave of Austria (from 1095); son of Leopold II, father of Heinrich II (Jasomirgott) and Leopold IV. Supported Heinrich V against his father Heinrich IV and as a reward was given Heinrich V's sister Agnes in marriage. Through this his second marriage became related to the Salier and Staufer dynasties; received the royal dominions and Imperial rights in the Mark of Austria, used the status of a "principatus terrae" (position above that of Duke) referring to "ius terrae" (right of the land). In 1125 withdrew his candidature as king. His rule was generally peaceful. Large possessions came to the Margrave through inheritance or marriage, such as the Vienna area. During his rule some villages on the Danube were given town status (Stein, Krems with its mint, Tulln, Neuburg, Vienna, Hainburg); he founded the monasteries Klosterneuburg, Heiligenkreuz and Kleinmariazell; Seitenstetten and Baumgartenberg were founded by nobles; St. Georgen (Herzogenburg) by the Bishop of Passau. His rule saw the first achievements in the field of culture in Austria (Frau Ava, Heinrich von Melk, Melker Annalen, Vita Altmanni), castles were built: Oberranna and the margravial residence next to the collegiate church in Klosterneuburg (from 1133 a monastery). This was his main residence and he is buried there. His memory is still kept very much alive in Austria. Was canonized in 1485, has been patron saint of what is now Lower Austria and Vienna since 1663.
---
Literature: L., exhibition catalogue, Klosterneuburg 1985; NDB.
---
References to other albums:

---