Leoben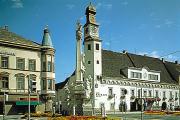 © Copyright
Leoben: old town hall.
---
Leoben, Styria, town in the district of Leoben, alt. 541 m, pop. 28,897 (in 1981: 31,989), area 107.74 km2, old iron industry centre and second biggest town of Styria, situated on River Mur/Mura. Donawitz and Göß are part of the town. - District Commission, district court, local hunting authority, mining authority, provincial court, social and labour court, prison, Employment Services, fiscal authority, Office of Weights and Measures, Customs Office, works inspectorate, local agricultural authority, office of the provincial government of Styria (building site management for the area), federal police authority, Leoben barracks, Economic Chamber and Wirtschaftsförderungsinstitut (Institute of Economic Development), Chamber of Labour, local Chamber of Agriculture and Forestry, health insurance agency, hospital, counselling and information centre for upper Styria, marriage guidance, family and life counselling for the Diocese of Graz-Seckau, youth centre, counselling agency for educational psychology, day-care centre for disabled people, Sisters of Mercy of the Holy Cross, office of the Provincial of the Ursulines, school of the Redemptorists, Erich Schmid Institute of Solid-State Physics (Austrian Academy of Sciences), Institute of the Joanneum research association, Austrian foundry institute, Austrian dust control authority, technology transfer centre, Kammersäle Donawitz and Stadtsaal (multi-purpose halls), congress centre, stadium, Tivoli sports grounds, gymnasium, skating rink, Oberlandhalle (multi-purpose hall), art exhibition hall of the town museum, town theatre, public library. Schools: adult education institution of the Chamber of Labour; University of Mining and Metallurgy, 2 Bundesgymnasium secondary schools and 1 Bundesrealgymnasium (federal mathematics-oriented secondary school), Höhere Bundeslehranstalt für wirtschaftliche Berufe (advanced level commercial school), Höhere Technische Lehranstalt (advanced level technical school), Vocational Training Institute with training and further training centres. Newspapers such as "Kleine Zeitung", "Obersteirische Volkszeitung". Important commuter centre with 14,028 employed people (1991), of which about 58 % in the tertiary sector (personal, social and public services, trade); production: iron and steel industry (steel at VOEST-Alpine Stahl Donawitz GesmbH, rails at VOEST-Alpine Schienen GesmbH, wire at VOEST-Alpine Draht GesmbH.) printed circuit board factory, Austria Technologie & Systemtechnik AG, wood processing industry (novopan boards, saw mill), limestone and gravel factories, important construction industry; brewery (Brau Union Österreich AG); concrete, brick and paint industries, foundries, electric power stations, tourism (41,914 overnight stays). Used to be an important mining site for lignite in the Leoben Tertiary depression around the Seegraben trench (closed down in 1964, Norische Senke Depression). - Archaeological finds of the Bronze Age, burial grounds of the Hallstatt culture. First documentary mention in 982 as "Liubina", mentioned as market town in 1173, planned founding of town from 1261 to 1280 by King Otakar II of Bohemia in the bend of River Mur; already trade centre for iron in the Middle Ages, planned extension of town from 1885 to 1889; town parish church of St. Xaver (since 1811, 1660 to 1665 built as church of the Jesuits), pilaster church with beautiful pulpit (around 1665-1670) and monumental high altar (1670). The town museum is in the former Jesuits´ school (demolished in 1965, only eastern part of the building conserved) with frescoes (1715); museum of the Gösser brewery, Göß abbey museum; St. Jakob church with Romanesque core (parish church until 1811), after 1500 late Gothic style and Baroque modifications in the 17th century, interior from the 18th century, former high altar piece with view of the town (1772), burial monuments and stones with coats of arms; Assumption of Virgin Mary Gothic parish church in Waasen with Gothic choir (around 1400), tower (1900), vault paintings (1483), rich stained-glass windows (1410-1420) and beautiful new Gothic high altar (1845); former Dominican monastery (founded before 1280, today provincial court and prison); Redemptorist church (1846-1847) and monastery; "Schwammerlturm" ("mushroom tower", 1616, cupola 1794, last preserved town gate in Austria); medieval tower, formerly the residence of the executioner of Leoben, remains of the medieval fortification on the southern side of the Postpark, P. v. Tunner monument in front of it (1904); old town hall (first documentary mention in 1485) with tower of 1568; new town hall (1964-1973); houses with Gothic and Renaissance nuclei around the main square (new design by B. Podrecca); Baroque Hackl house; angel fountain (1794); miners´ fountain (1799); town theatre (1790/1791); University of Mining and Metallurgy (1908-1910); Massenburg castle ruins (13th century, in ruins since 1820).
---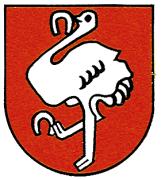 © Copyright
Coat of arms of Leoben.
---
Literature: G. Jontes, Leoben. Die alte Bergstadt, 1989; Österreichisches Städtebuch, vol. VI, part 3, Die Städte der Steiermark, 1990; G. Jontes, Leoben. Ein Führer durch einst und heute, 1995.
---
References to other albums:

---