Klosterneuburg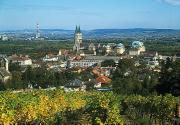 © Copyright
Klosterneuburg.
---
Klosterneuburg, Lower Austria, town in the district of Wien-Umgebung, alt. 192 m, pop. 24,442 (1981: 22,975), area 76.19 km2, situated on the southern bank of the River Danube, northwest of Vienna. - District commission Wien - Umgebung (area surrounding Vienna), district court, branch office of the Labour Market Service, federal construction office, federal quality control office, Magdeburg barracks, Chamber of Commerce, Chamber of Labour, district branch of the Chamber of Agriculture, regional health insurance agency, hospital, provincial psychiatric hospital in Gugging (with "House of Artists"), abbey of Augustinian Canons, "Weißer Hof" rehabilitation centre, operated by the General Accident Insurance Agency (Allgemeine Unfallversicherungsanstalt), boarding school of the City of Vienna, Caritas, motorway maintenance depot, Babenberg multi-purpose hall, Austrian Academy for Industrial Medicine, Österreichisches Ost- und Südosteuropa-Institut (Austrian Institute for Eastern and Southeastern Europe), International Film Register, abbey of the Augustinian Canons Regular, monasteries of the Congregation of the Daughters of the Divine Redeemer and the School Sisters of Notre Dame, home for the elderly and nursing home run by the Brothers Hospitallers; Bundesgymnasium, Bundesrealgymnasium secondary schools, School and Research Institute for Viniculture and Horticulture (with institute of apiculture), abbey museum of the Augustinian Canons, museum of the Sammlung Essl collection (contemporary art), town museum with Roman and Medieval finds, Rostock villa (firefighters´ museum, Moravian -Silesian folk museum);, F. Kafka memorial site in Klosterneuburg - Kierling, museum of local history and culture in Kierling; summer festival (July-August); highly developed service sector (in 1991 around 78% of the 6,744 employees worked in the service sector, in particular in personal, social and public services, business establishments), enterprises of Klosterneuburg abbey, head offices of bauMax AG and Schömer HG, metal working industry (gratings, automatic doors, cables and wires), production of electronic chips, packaging materials and artificial stones, concrete works, wine growing, fruit farming, tourism in summer (106,563 overnight stays).- First traces of settlement from the Neolithic period; on the abbey grounds, remains of a Roman citadel whose antique name is unknown, burial site from the 1st -5th centuries (archeological finds and engraved stones displayed in the town museum and the abbey museum). First documented mention 1108, was the residence of the Babenbergs Leopold III and Leopold VI, was raised to a town in 1298, partially destroyed in 1529 and 1683 by the Turks, between 1938 and 1954 Klosterneuburg was the 26th district of Vienna. Abbey founded by Margrave Leopold III (first documented mention 1108), in 1133 given over to the Augustinian Canons, impressive buildings on vast area, comprising the abbey facilities and the collegiate church and parish church of Our Lady (1114-1136), Romanesque basilica (3-aisled, transept with regular crossing), gallery preserved, later renovated in Gothic and Late Gothic style (western facade, until 1592), Early Baroque aspect due to transformation of aisles into chapels, building of a western gallery and stucco work, High Baroque frescoes by J. M. Rottmayr and stuccoes by S. Bussi (1680-1723), presbytery altered in Baroque style between 1723 and 1730, extensive restoration of the exterior by F. von Schmidt in the 19th century (Neogothic western towers), auxiliary altars from 1700 (paintings by P. Strudel and sculptures by the Spät brothers), remarkable choir stalls (1723) by M. Steinl, Baroque organ by J. G. Freundt (1636-1642), Leopold chapel (former chapter hall), adaptations between 1677-1680; the famous Verdun altar is the tomb of Margrave Leopold, a marvellous winged altarpiece made from enamel panels by Nikolaus von Verdun (1181), in 1331 transformed into a winged altarpiece with painted panels. Parts of the medieval abbey have been preserved: Gothic cloister (13th /14th century), former chapter hall with Gothic windows (13th -15th century), Freisinger or Wehinger chapel (1394, restored 1869-1881). J. Prandtauer drew the plans for a Baroque enlargement of the abbey in 1706. In 1730 D. F. d'Allio began to draw his plan for a new building (significantly influenced by J. E. Fischer von Erlach) commissioned by Emperor Karl VI, who wanted to make Klosterneuburg his official residence ("Austrian Escorial"); in 1776 this plan had to be simplified by D. Kaselik; between 1836-1842 J. Kornhäusl carried out the first quarter of the plan, the rest was not realised. In the marble hall is a frescoed ceiling carrying the title "Glory of the House of Austria" by D. Gran (1749), in the Sala terrena are herm atlantes by L. Mattielli (1735). In the abbey museum the famous "Madonna of Klosterneuburg" (1310); the museum also houses an art gallery with Gothic painted panels and numerous other works of art. The abbey library keeps the so-called "Sunthaymer Tafeln", an illuminated book that served as documentation for the Babenberg Family Tree. On the square in front of the abbey is a Gothic lantern (1381). The treasury contains the "Erzherzogshut", the crown of the Austrian rulers.
Below the Gothic parish church of St. Martin, which was later adapted and richly decorated in Baroque style, remains of Gothic and Romanesque buildings and a Carolingian wooden church. Statue of the Holy Trinity (1714) on the town square. Custom: "Fasslrutschen" ("barrel sliding") on the feast day of St. Leopold (Leopoldi (November 15)).
---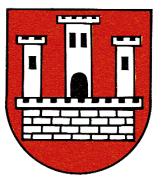 © Copyright
Coat of arms of Klosterneuburg.
---
Literature: Österreichisches Städtebuch, vol. IV, part 2, Die Städte Niederösterreichs, 1976; G. Rennhofer, Stift Klosterneuburg, 1992; Stadtgemeinde Klosterneuburg (ed.), Klosterneuburg, Geschichte und Kultur, 2 vols., 1992/93.
---
References to other albums:

---