Klestil, Thomas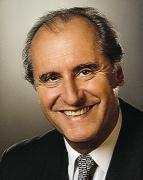 © Copyright
Thomas Klestil, photo
---
Klestil, Thomas, b. Vienna, Nov. 4, 1932,  d. Vienna, July 6, 2004, diplomat and politician. From 1959-1962 worked in the Austrian mission to the OECD in Paris and from 1962-1966 in the Austrian embassy in Washington, 1966-1969 secretary to Federal Chancellor J. Klaus, 1969-1974 consul general in Los Angeles, 1978-1982 ambassador to the UN in New York, 1982-1987 ambassador to the USA, 1987-1992 Secretary General for Foreign Affairs, elected Federal President of Austria as candidate of the Austrian People's Party, ÖVP, in 1992, re-elected in 1998.
---
Work: Themen meines Lebens, 1997.
Literature: C. Dickinger: Ö. Präsidenten, 2000.
---