Kelsen, Hans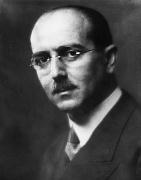 © Copyright
Hans Kelsen. Photo.
---
Kelsen, Hans, b. Prague (Czech Republic), Oct. 11, 1881, d. Berkeley (USA), April 19, 1973, specialist in public law, constitutional law, and jurisprudence. Author of the Federal Constitution of 1920, 1919-1930 professor at the University of Vienna, 1921-1930 judge of the Constitutional Court, university professor in Cologne 1930, Geneva 1933-1935 and 1938, Prague 1936-1938, Berkeley 1945-1952. Founder of "the pure theory" of law, leading representative of legal positivism. 11 honorary doctorates.
---
Works: Hauptprobleme der Staatsrechtslehre, 1911; Allgemeine Staatslehre, 1925; Reine Rechtslehre 1934; The Law of the United Nations, 1950; Was ist Gerechtigkeit?, 1953.
Literature: R. A. Metall, H. K. Leben u. Werk, 1969; R. Walter u. H. K., in: W. Brauneder (ed.), Juristen in Österreich, 1987; C. Heidemann, Die Norm als Tatsache. Zur Normentheorie H. K., 1997; NÖB; NDB.
---
References to other albums:

---