Jelinek, Elfriede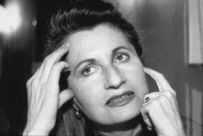 © Copyright
Elfriede Jelinek, photo, 1992
---
Jelinek, Elfriede, b. Mürzzuschlag (Styria), Oct. 20, 1946, writer. Studied art history, theatre and music in Vienna, lives in Vienna, Munich and Paris as a free-lance writer. For her criticism of society J. uses the stereotyped language of comics, the media, advertisements etc. and distorts it into grotesque forms. She is considered to be a leading exponent of Women's Literature, attaching particular importance to such topics as female sexuality and the conflict of the sexes (Die Klavierspielerin, 1983; Lust, 1989). Awarded the G.-Büchner Prize in 1998.
---
Further works: Novels and prose: Lisas Schatten, 1967; wir sind lockvögel, baby, 1970; Michael, 1972; Die Liebhaberinnen, 1975; Die Ausgesperrten, 1980; Die Kinder der Toten, 1997; Gier, 2000. - Dramas: Was geschah, nachdem Nora ihren Mann verlassen hatte oder Stützen der Gesellschaften, 1980; Clara S., 19848; Krankheit oder Moderne Frauen, 1987; Tautenauberg, 1991; Stecken, Stab und Stangl - Raststätte - Wolken - Heim. Neue Theaterstücke, 1997; Ein Sportstück, 1998; er nicht als er, 1998. - Poems, radio plays, libretti, essays.
Literature: "Gegen den schönen Schein", Essays zu E. J., ed. by C. Gürtler, 1989; E. J., Dossier 2, ed. by K. Bartsch and G. Höfler, 1992; E. Spanlang, E. J. Studien zum Frühwerk, 1992; H. L. Arnold (ed.), E. J., 1993; M. Janz, E. J., 1995; M. S. Pflüger, Vom Dialog zur Dialogizität. Die Theaterästhetik von E. J., 1996; D. Bartens and P. Pechmann (eds.), E. J. - Die internationale Rezeption, 1997; Y. Hoffmann, E. J. Sprach- und Kulturkritik im Erzählwerk, 1999; E. J., Edition Text + Kritik, 21999.
---