Hofer, Andreas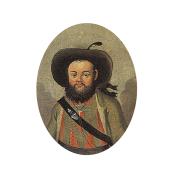 © Copyright
Andreas Hofer. Anonymous painting.
---
Hofer, Andreas, b. St. Leonhard in Passeier valley/Val Passiria (South Tyrol), Nov. 22, 1767, d. Mantua, (Italy, shot), Feb. 20, 1810, leader of Tyrol's Fight for Freedom in 1809, innkeeper (the inn "Am Sand" in Jaufenstraße in the Passeier valley). 1790 member of the Tyrolean provincial parliament, marksmen captain, 1809 close friend of Archduke Johann. After Austria was defeated in the War of the Third Coalition (Napoleonic Wars) vast parts of Tyrol were detached from Austria in 1805/06 and became part of the Kingdom of Bavaria; the ruling House of Austria chose H. to lead the uprising against the Bavarian and French occupying forces on April 9, 1809, and after the Imperial Austrian forces had withdrawn, H. took over command mid-May and won battles at Berg Isel on May 25 and 29. After the armistice of Znojmo on July 12, French troops again occupied Tyrol, H. called up the militia and won another battle at Berg Isel on Aug. 13. Took up residence in Innsbruck and ruled Tyrol from Aug. 15 to Oct. 21. After the peace of Schönbrunn (Oct. 14) he resumed the fight but on Nov. 1, 1809 lost the 4th battle of Berg Isel. On Nov. 11 once again issued a call to arms which resulted in defeat. H. fled, was betrayed by Franz Raffl and on Jan. 28, 1810 was arrested in his hide-out in the Mähderhütte at Pfandleralm (Alpine pasture of the Prantacher farm opposite St. Martin in Passeier valley). Was court-martialled in Mantua and executed on Napoleon' instruction. 1823 buried in Hofkirche church in Innsbruck; several monuments and literary works are dedicated to him.
---
Literature: H. Kramer, A. H., 101974; K. Paulin, A. H. und der Ti. Freiheitskampf, 1996; H. Magenschab, A. H., 1998.
---