Glöckel, Otto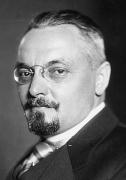 © Copyright
Otto Glöckel. Photo, around 1925.
---
Glöckel, Otto, b. Pottendorf (Lower Austria), Feb. 8, 1874, d. Vienna, July 23, 1935, school reformer and Social Democratic politician. From 1907 member of the Reichsrat, 1918-1920 member of the Provisional and then the Constituent National Assembly, 1920-1933 member of the Nationalrat, 1919/1920 subordinate Staatssekretär for education, from 1922-1934 executive second president of the Vienna Municipal School Board, temporarily arrested in 1934. Leading organiser of a social democratic reform of schools in the 1st Republic (Comprehensive School). G. and his co-workers (like V. Fadrus, H. Fischl, K. Furtmüller) wanted equality of opportunity through the elimination of educational barriers, integration into society and elimination of the influence of the Church. The central office of school reform was at first the Department for Reform (Reformabteilung 1919-1923) in the Ministry of Education, then the Vienna Municipal School Board. G's measures greatly contributed to "interior" reforms, like the renewal of curricula, publication of school books more suitable for children (with the help of the publishing house Jugend und Volk, J & V) founded by the City of Vienna, the introduction of democratic behaviour in the "school communities", improvements in teacher training and further education for teachers (1923 establishment of the Vienna Municipal Pedagogic Institute with a pedagogic central library) were widely supported, also successful organisational reforms in military cadet schools (1919), in state (as of 1920 federal) homes for juvenile delinquents and the expansion of facilities for special needs teaching in Vienna; trial projects for secondary schools offering a wide range of education Allgemeine Mittelschule resulted only in a compromise, the creation of the secondary modern school Hauptschule (1927).
---
Works: Das Tor der Zukunft, 1917; Die österreichische Schulreform, 1923; Drillschule - Lernschule - Arbeitsschule, 1928; O. G., Selbstbiographie, 1939. - Edition: Ausgewählte Schriften und Reden, ed. by O. Achs, 1985.
Literature: O. Achs et al. Krassnigg, Drillschule - Lernschule - Arbeitsschule. O. G. und die Schulreform der 1. Republik, 1974.
---