Eifler, Alexander, Edler von Lobenstedt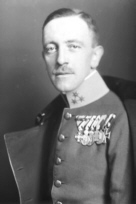 © Copyright
Alexander Eifler Edler von Lobenstedt. Photo, 1915.
---
Eifler, Alexander, Edler von Lobenstedt, b. Vienna, May 30, 1890, d. Dachau concentration camp (Germany), Jan. 2, 1945, military officer. From 1923 chief of staff of the Republikanischer Schutzbund (Republican Defence Federation). In early March 1938, E. appealed to the people to fight for Austria; as a representative of the illegal Socialists, he tried to establish connections to official government authorities. Arrested on March 16, 1938 and sent to Dachau concentration camp.
---
Literature: J. Deutsch, A. E., 1947; A. Magaziner, Die Wegbereiter, 1975.
---