Ebner-Eschenbach, Marie Freifrau von geborene Freiin von Dubsky, ab 1843 Gräfin von Dubsky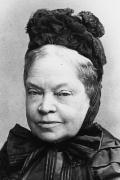 © Copyright
Baroness Marie von Ebner-Eschenbach. Photo.
---
Ebner-Eschenbach, Baroness Marie von (née Baroness von Dubsky, from 1843 Countess von Dubsky), b. Zdislavice, Czech Republic (then Zdislawitz bei Kremsier), Sept. 13, 1830, d. Vienna, March 12, 1916. Important Austrian narrative writer, dramatist and aphorist in the period of late Realism. At 18 she married her cousin, later lieutenant field marshal Baron Moritz von Ebner-Eschenbach, and lived alternately at their castle and in Vienna.
Acquainted with F. Grillparzer, F. Halm, F. Hebbel und H. Laube, E.-E. began her career as a dramatist, but her play "Das Waldfräulein" (first performed in 1873) was unsuccessful because it criticised the aristocracy. E.-E. then turned to prose writing and became known for the artist novella "Ein Spätgeborener" (1875); this was followed by her first great narrative, "Božena" (1876), and "Dorf- und Schloßgeschichten" (1883), which contains her best-known narratives ("Der Kreisphysikus", "Krambambuli"). As she was devoted to the intellectual principles of the late Enlightenment in Austria, she mostly depicted the fate of outsiders and members of the lower classes, at the same time sharply criticising aristocratic society. E.-E. also became known for her witty aphorisms (Weisheit des Herzens, 1948). In 1898 she received the Cross of Honour for Art and Literature, as well as an honorary doctorate from the University of Vienna (1900); her monument is the only one dedicated to a woman in the courtyard of the University of Vienna (main building).
---
Further works: Zwei Komtessen, 1885; Das Gemeindekind, 2 vols., 1887; Lotti, die Uhrmacherin, 1889 (first printed in "Dt. Rundschau", 1880); Unsühnbar, 2 vols., 1890; Margarethe, 1891; Glaubenslos, 1893; Alte Schule, 1897; Aus Spätherbsttagen, 1901; Meine Kinderjahre, 1906 (autobiography). - Editions: Sämtl. Werke, 12 vols., 1928; Gesammelte Werke, 9 vols., 1961.
Literature: K. Fliedl, Auch ein Beruf, in: G. Brinker-Gabler (ed.): Dt. Lit. von Frauen, vol. 2, 1988; G. Gorla, M. v. E.-B., 1997; J. P. Strelka (ed.), Des Mitleids tiefe Liebesfähigkeit, 1997; E. Toegel, M. v. E.-E. Leben und Werk, 1997.
---
References to other albums:

---