Charlemont, Hugo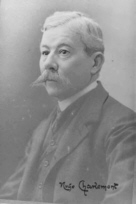 © Copyright
Hugo Charlemont. Photo, around 1910.
---
Charlemont, Hugo, b. Jemnice, Czech Republic (then Jamnitz), March 18, 1850, d. Vienna, March 18, 1939, painter and etcher; son of Matthias A. Charlemont. Studied with E. Peithner von Lichtenfels at the Vienna Academy, with his brother Eduard and with H. Makart; travelled to the Netherlands and Venice, painted mainly genre scenes, still life, interiors and landscapes.
---
Works: Illustrations in the book "Die österreich-ungarische Monarchie in Wort und Bild",1885-1902.
---