Bregenzer Festspiele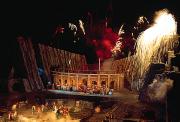 © Copyright
Bregenz Festival: performance of "Carmen" by G. Bizet, 1991.
---
Bregenz Festival, in 1946 first performance on the lake; in the first years mainly operettas were performed. In 1949 the floating stage was opened which enabled the use of state-of-the-art stage machinery and special effects; in 1980 the new Festival Hall was opened. Since the 70s operettas have been replaced by operas ("The Flying Dutchman", in 1973; "Carmen", in 1974; "Turandot", in 1979); the productions by J. Savary ("The Tales of Hoffmann", in 1987; "The Magic Flute", in 1985; "Carmen", in 1991) achieved renown and have made the Bregenz Festival one of the internationally outstanding summer festivals.
---
Literature: S. Fritsch, Die Situation des professionellen Theaters der Nachkriegszeit in Vorarlberg mit besonderer Berücksichtigung der Bregenzer Festspiele (1945-74), doctoral thesis, Vienna in 1975; E. Bär, Spiel auf dem See. Die Bregenzer Festspiele von der Gründung bis zur Gegenwart, 1984.
---
References to other albums:

---