Bad Ischl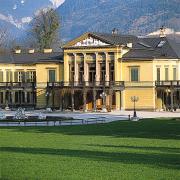 © Copyright
Bad Ischl: Kaiser villa.
---
Bad Ischl, Upper Austria, town in the district of Gmunden, chartered 1940, alt. 469 m, pop. 13,887, area 162.83 km2, name stems from the Celtic word "Iscla", spa town (430,000 overnight stays) in the heart of the Salzkammergut lake district, at the confluence of the rivers Ischl and Traun; most important brine bath (27 % common salt) in Austria. District and Labour Court, office of the Economic Chamber, office of the Chamber of Labour, Employment Services, hospital, therapy centre (one of the therapy centres run by the province of Upper Austria) with thermal indoor brine pool (30° C, treatment of rheumatic and respiratory diseases, gall-bladder and liver complaints), congress and theatre centre, spa park, therapy homes, youth hostel; town museum, Lehár villa (with museum) and Haenel-Pancera (pianist) museum, photography museum of the province of Upper Austria in the "Marmorschlößl", museum of vehicles, technology and aviation, Bad Ischl Operetta Festival from July to September; cable car to the Katrinalm Mountain skiing area (1,542 m), golf-course; schools: Bundesgymnasium and Bundesrealgymnasium secondary schools, 2 commercial schools, one state-run, one private, commercial academy, tourism school. SMEs, service industry as main source of income (around 69 % of employed persons in 1991, esp. in the hotel and catering industry and in trade), some manufacturing businesses: production of shower cabins, traditional costumes, chemicals and pharmaceuticals, metal mining; Dachsteinhöhlen forestry and tourism enterprise run by the Österreichische Bundesforste AG (Austrian Federal Forests). First mentioned in records of 1442 as a market town; salt mining from the Middle Ages, upswing in the Biedermeier period (brine bath built around 1823), summer residence of Emperor Franz Joseph I (1854-1914), therefore many buildings from the times of the monarchy, Lehár-Theater (1827, today a cinema), drinking hall (1829-1831), Kaiser Villa (renovated 1853) with landscape garden. In the 19th century Bad Ischl was a music and theatre centre (J. Brahms, J. Strauß the Younger, A. Bruckner, A. Girardi, E. Kálmán, F. Lehár); late Classisistic town hall, post office (1893), therapy centre (built 1873-1875, reconstructed after a fire in 1965-1966; completely renovated 1998-1999, now a congress and theatre centre), hospital (1908-1910, extensions were added in subsequent years), new therapy centre (1932, by C. Holzmeister); parish church of St. Nikolaus (1769-1780) with Gothic tower and altar-piece paintings by L. Kupelwieser (1847); Protestant church (1881), Calvary chapel (18th century); Lauffen pilgrimage church (original 15th century); church Maria an der Straße ("Mary by the Road-Side",1956-1957) at Pfandl. Ischler Salzberg Mountain (680 m) with show mine in the salt mine near Perneck.
---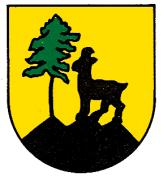 © Copyright
Coat of arms of Bad Ischl.
---
Literature: Österreichisches Städtebuch, vol. I, Oberösterreich, 1968.
---
References to other albums:

---