Avramidis, Joannis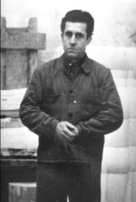 © Copyright
Joannis Avramidis. Photo, 1974.
---
Avramidis, Joannis, b. Batum (Georgia), Sept. 26, 1922, sculptor of Greek descent. Has lived in Vienna since 1943, pupil of R. C. Andersen and F. Wotruba, 1968-1992 Professor at the Academy of Fine Arts in Vienna. Abstract figures modelled on the human body. One of the Austrian representatives at the 1962 Biennale in Venice. Awarded the Grand Austrian State Prize in 1973 and the Austrian Decoration for Science and Art in 1985.
---
Literature: A. Brusberg, Agora, Skulpturen und Zeichnungen 1953-1988, 1989.
---