Alxinger, Johann Baptist Edler von Pseudonym: Johannes Xilanger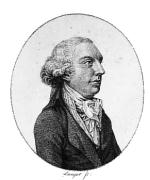 © Copyright
Johann Baptist von Alxinger
---
Alxinger, Johann Baptist Edler von, (pseudonym: Johannes Xilanger), b. Vienna, Jan. 24, 1755, d. Vienna, May 1, 1797, author; studied law, 1796 Secretary of the Hofburg Theatre. In his pamphlets, especially in the "Austrian Monthly Pamphlet" (Ö. Monathsschrift"), published together with J. Schreyvogel, he promoted the ideas of the Enlightenment. Under the influence of C. M. Wieland he wrote the chivalric epics "Doolin von Maynz" (1787) and "Bliomberis" (1791).
---
Further works: Odes, lieder, poems.
Literature: H. Zeman (ed.), Die ö. Literatur. Ihr Profil an der Wende vom 18. zum 19. Jh., vol. 2, 1979.
---