Adler, Victor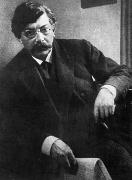 © Copyright
Victor Adler. Photo, around 1910.
---
Adler, Victor, b. Prague (Czech Republic), June 24, 1852, d. Vienna, Nov. 11, 1918, physician and social democratic politician. Founding father of social democracy in Austria, leader of the Labour Movement and co-founder of the First Republic; initially member of the German Nationalist movement. 1886 founded the socialist weekly "Gleichheit" ("Equality"), 1889 the "Arbeiterzeitung" ("Workers' Paper"). 1888/1889 united the various groups to establish the Social Democratic Party of Austria at the Hainfelder Parteitag (party conference in Hainfeld) and in 1899 played a leading role in the drafting of the Brünner Programm. As a member of the provincial parliament (from 1905) he played a leading role in the fight for universal suffrage; in 1918 as the Secretary of State for Foreign Affairs under the interim government of K. Renner he advocated the "Anschluss" ("unification") of "Deutsch-Österreich" with Germany. Bust by A. Hanak at the "Republik-Denkmal" ("Monument of the Republic") in Vienna.
---
Works: Aufsätze, Reden und Briefe, 5 vols., 1922-1929.
Literature: M. Ermers, V. A., 1932; R. Charmatz, Lebensbilder aus der Geschichte Ö., 1947; F. Kreuzer, Was wir ersehnen von der Zukunft Fernen, 1988; L. O. Meysels, Viktor Adler - Die Biographie, 1997; ÖBL; NÖB; NDB.
---