Franciscan Monastery, Salzburg from the series "Austria's Monasteries"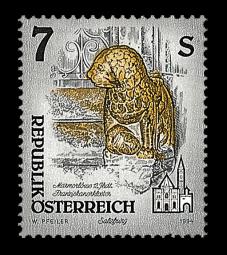 Date of issue: November 18, 1994
Face value: AS 7
Definitive stamp

---
The Franciscan church "Our Dear Lady" is presumed to be the oldest parish and baptismal church in the city of Salzburg. It was heavily destroyed by fire in 1167 and newly consecrated in 1223 during its reconstruction. This stamp shows part of Retabel von Fischer von Erlach's 1709 work "Enthroned Madonna with Miraculous Powers". Simon Fries of Salzburg created the accompanying figures (St. George and St. Florian). A marble lion stabbed from below by a warrior's sword decorates the pulpit's stairway. This scene is depicted on the commemorative stamp.
---
References to other albums:

| | |
| --- | --- |
| Encyclopedia of Austria: | Salzburg, (Stadt) |
| Video Album: | Salzburg Festival, "Everyman" by Hugo von Hofmannstal, 1934 , Salzburg Festival, "Everyman" Richard Eybner, 1932 , Mozart's garden house , Salzburg, tourism film, 1939 , Salzburg Festival, "Everyman" Atilla Hörbiger, 1948 , Salzburg , Graz, Eggenberg Castle, the Planet Room: Giovanni Pietro de Pomis, 1625-55. , Crypt of the Benedictine monastery Altenburg, 18th century , Liberation of concentration camp Mauthausen, 1945 |