Wiener Sängerknaben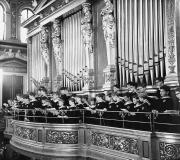 © Copyright
Vienna Boys' Choir in the large hall of the Musikverein (Großer Musikvereinssaal).
---
Vienna Boys' Choir (Wiener Sängerknaben), emerged from the traditional Court Boys' Choir, which formed part of the staff of the Hofmusikkapelle from the Late Middle Ages before the reform of the Hofmusikkapelle in 1498. Around 14-20 boys were responsible for the musical programme of holy masses and were under the supervision of a precentor, later they were subordinate to the kapellmeister. Due to their profound musical education, many members of the Vienna Boys' Choir continued to pursue a musical career even after their voices broke (the brothers J. and M. Haydn, F. Schubert, F. Mottl, C. Krauss etc.). The dissolution of the Hofmusikkapelle in 1920 also meant the end of the boys' choir. However, the then rector of the Hofmusikkapelle, J. Schnitt, wanted the tradition to be continued and the Boys' Choir Institute was re-established as the Vienna Boys' Choir and gradually turned into a professional music business. One of four choirs, which were founded in 1935, is responsible for Sunday mass in the Vienna Burgkapelle chapel, the others are available for concerts, world tours, films, records etc. The palace in the Augarten has served as a training facility and boarding school since 1948. The Vienna Boys' Choir and the Hofburgkapelle are subordinate to the Ministry for Education.
---
Literature: R. Holzer and J. Schmitt, Die Wiener Sängerknaben, 1953; F. J. Grobauer, Die Nachtigallen aus der Wiener Burgkapelle, 1954; F. Endler, Die Wiener Sängerknaben, 1974.
---
References to other albums:

---