Walzel, Oskar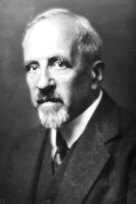 © Copyright
Oskar Walzel, photo, around 1925
---
Walzel, Oskar, b. Vienna, Oct. 28, 1864, d. Bonn (Germany), Dec. 29, 1944. Literary historian; son of Camillo Walzel. University professor in Berne, Dresden and Bonn. Tried to translate concepts from art history to literary studies ("Gehalt und Gestalt im Kunstwerk des Dichters", in: "Handbuch der Literaturwissenschaft", 1923/24).
---
Further works: Die deutsche Romantik, 1908; Die deutsche Dichtung seit Goethes Tod, 1913 (extended edition 1920); Das Wortkunstwerk, 1926; Die deutsche Dichtung von Gottsched bis zur Gegenwart, 2 vols., 1927/30.
Literature: K. Naderer, O. W. Ansatz einer neuen Literaturwissenschaft, 31994.
---