Wallisch, Koloman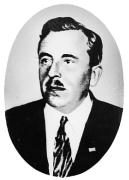 © Copyright
Koloman Wallisch. Photo, around 1930.
---
Wallisch, Koloman, b. Lugoj, Rumania (then Lugosch), Feb. 28, 1889, d. Leoben (Styria; executed), Feb. 19, 1934. Social Democratic politician. From 1921 Social Democratic Party Secretary in Bruck an der Mur and member of the Landtag, 1930-1934 member of the Nationalrat. As commander of the Republikanischer Schutzbund (Defence League) in Upper Styria, he instigated a battle against the police in the February Uprising in 1934, was taken prisoner and executed.
---
Literature: K. Soós, K. W. Eine politische Biographie, 1990.
---