Vorderösterreich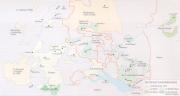 © Copyright
The loss of Vorderösterreich.
---
Vorderösterreich (also referred to as "Vorlande"; Austrian Forelands), name for the Habsburg domains in the west of their empire: in Switzerland (Aargau, Thurgau, Zürichgau, etc.), in Swabia, and in Alsace (Sundgau). In 1368 the city of Freiburg im Breisgau submitted to the Habsburgs and became the political and intellectual centre of Vorderösterrreich. The Landvogteien (administrative subdivisions headed by a Landvogt) in the Lower Alsace region and in the Ortenau and from 1572 onwards also the Swabian domains (Burgau, Hohenberg, Nellenburg, Tettnang and the Upper Swabian Landvogtei) were only loosely connected with Vorderösterreich; from 1752 until 1782 Vorarlberg also belonged to Vorderösterreich. The family domains of the Habsburgs in Switzerland ("Vorlande") were lost early on, after the Habsburg dukes were defeated at Morgarten (Leopold I, 1315), at Sempach (Leopold III, 1386) and near Näfels (Albrecht III, 1388). In 1415 they lost Aargau when Duke Friedrich IV was outlawed, while Rapperswil was lost in 1458, Thurgau in 1460 and Winterthur in 1467. With the acquisition of Tirol and the whole area of Vorarlberg the Habsburgs were able to establish the territorial connection between Austria and Vorderösterreich. The true founder of Vorderösterreich is considered to have been Leopold III, who concluded the Neuberger Teilungsvertrag in 1379. In 1490 the government of the Vorlande domiciled in Ensisheim (Alsace) was placed under the central administration for Tirol and the Vorlande (domiciled in Innsbruck), which had been established by Maximilian I; from 1651 onwards Freiburg im Breisgau became the seat of government of Vorderösterreich. In the Peace of Westphalia of 1648 the Habsburgs lost their possessions in Alsace to France, in the Treaty of Pressburg of 1805 (definitive as from 1815) all the other areas of Vorderösterreich to Baden, Württemberg and Bavaria. At the 1815 Congress of Vienna the negotiating parties discussed whether Austria was to receive the Breisgau region ("according to the wishes of the people living in this area") if it abandoned its rights to Salzburg. However, these plans failed; eventually Breisgau was ceded to Baden, and the Palatinate left of the river Rhine to Bavaria; in return, Austria received the principal parts of Salzburg.
---
Literature: P. Stadler, Vorderösterreich, 1932; O. Stolz, Geschichtliche Beschreibung der ober- und vorderösterreichischen Länder, 1943; Vorderösterreich, ed. by F. Metz, 2 vols., 1959.
---