Turrini, Peter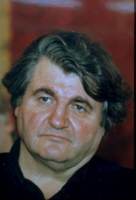 © Copyright
Peter Turrini, photo, 1994
---
Turrini, Peter, b. St. Margarethen im Lavanttal (Carinthia), Sept. 26, 1944, author, mainly dramatist and playwright. Began as advertising copy-writer. His first provocative socially critical pieces, "Rozznjogd" (1971) and "Sauschlachten" (1972), led to theatre scandals. His "Alpensaga" (TV series in 6 parts, 1976-1980; director: D. Berner) with W. Pevny, a critical view of the history of the Austrian peasant classes from the turn of the century until after 1945, evoked great controversy. Only three of the four episodes of the television series "Arbeitersaga" (with R. Palla and D. Berner) were televised from 1988 to 1990. T. returned to the theatre in 1980 with the one-act play "Joseph and Maria". Plays like "Die Bürger" (1981), "Die Minderleister" (1988) and "Tod und Teufel" (1990) again gave him the reputation of a "shock author"; nevertheless considered one of the most significant German language playwrights.
---
Further works: Dramas: Der tollste Tag, 1972; Die Wirtin, 1973; Campiello, 1982; Die Schlacht um Wien, 1995; Eine Liebe in Madagaskar, 1998. - Film script: Jugend, 1984 (with K. Kratz). - Novel: Erlebnisse in der Mundhöhle, 1972. - Poems: Ein paar Schritte zurück, 1980; Im Namen der Liebe, 1993. - Essays: Es ist ein gutes Land, 1986; Mein Österreich, 1988. - Edition: P. T. Lesebuch, 3 vols., 1999.
Literature: P. T., ed. by W. Schuch and K. Siblewski, 1991; J. Landa (ed.), "I am too many people". P. T.: Playwright, Poet, Essaysist, 1998.
---