Türkenbelagerungen Wiens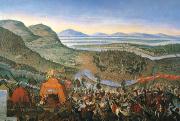 © Copyright
The Turkish siege: The relief of Vienna on Sept. 12, 1683. painting by F. Geffels (Historisches Museum der Stadt Wien).
---
Turkish Sieges of Vienna: Turkish forces besieged Vienna, in 1529 and 1683: In 1529 Süleyman lI laid siege to Vienna which lasted from September 27 to Oktober 15; during the summer of 1683, from July 7 to September 9, Vienna suffered a second siege led by grand vizier Kara Mustafa. These two unsuccessful sieges of Vienna constituted the climax of the Turkish Wars.
---
Literature: W. Hummelberger, Wiens erste Belagerung durch die Türken 1529, 1976; I. Ackerl, Von Türken belagert - von Christen entsetzt. Das belagerte Wien 1683, 1983; Die Türken vor Wien, exhibition catalogue, Vienna 1983.
---