Tiroler Freiheitskampf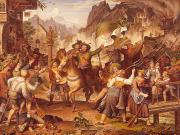 © Copyright
Tirol´s Fight for Freedom: Der Tiroler Landsturm anno neun. Painting by J. A. Koch, 1819. (Tirolean Provincial Museum Ferdinandeum, Innsbruck).
---
Tirol´s Fight for Freedom: After the Tirol had been ceded to Bavaria in 1805, the Tiroleans rose against Bavarian rule under the leadership of A. Hofer.The fights started on April 11/12, 1809 on Bergisel Mountain. Andreas Hofer defeated the Bavarians (on May 25 and 29, 1809) and the Rheinbund troops (on August 13, 1809) in a number of battles so that the Bavarians were forced to leave the province. However, after the Treaty of Schönbrunn on October 14, 1809 Bavarian, French and Italian troops won a decisive victory against the Tiroleans on November 11, 1809 on Bergisel Mountain. Once again Hofer issued a call to arms, but it resulted in defeat and the Tirol remained under Bavarian rule.
---
Literature: W. Pfaundler and W. Köfler, Der Tiroler Freiheitskampf 1809 unter A. Hofer, 1984.
---