Tilly, Johann Tserclaes Graf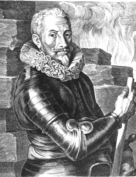 © Copyright
Count Johann Tserclaes Tilly. Painting by A. van Dyck.
---
Tilly, Count Johann Tserclaes, b. Tilly Palace (Belgium), Febuary, 1559, d. Ingolstadt (Germany), April 30, 1632, Spanish, then Imperial Commander. 1610 he headed the Catholic League, won the battle at the White Mountain near Prague in 1620 and in 1622 won against the Danes at Lutter am Barenberge; 1630 Imperial Generalissimo; besieged and conquered Magdeburg in 1631; defeated by Gustavus Adolfus on Sept. 17, 1631 at Breitenfeld (Saxony-Anhalt) and on April 15, 1632 at Rain am Lech, where he was fatally wounded in the battle.
---
Literature: M. S. Junkelmann, J. T. Gf. v. T., in: H. Glaser (ed.) Um Glauben und Reich, Kurfürst Maximilian I., exhibition catalogue, Munich 1980.
---