Thonet, Gebrüder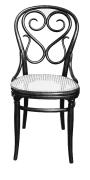 © Copyright
Thonet: Stuhl Nr. 4.
---
Thonet, Gebrüder (Thonet Brothers), cabinetmakers, established in 1825 by Michael Thonet, located in Vienna from 1842, specialising in bent-wood furniture, developed their chair "Stuhl Nr. 1" in 1850. The company revolutionised the industrial production of chairs and seats, and maintained branches in Hamburg, London, and Paris from 1862. Around 1900 the company had approximately 10,000 employees, a world-wide distribution network and international production sites. From 1900, bent-wood furniture was also widely used in public institutions (including the Café Museum by A. Loos and the Postsparkasse by O. Wagner) in Vienna. Through mergers with other companies (Thonet-Mundus Group until 1939), Gebrüder Thonet developed into one of the largest furniture manufacturing groups in the world. The company was reorganised after 1945. In 1976 the group was split up into one German and one Austrian company, now under the name of "Gebrüder Thonet-Vienna". Today (2000) the production plant, with about 130 employees, is located in Friedberg (Styria), headquarters of the management are located in Vienna. In 1999 turnover amounted to ATS 180 million; the company focuses strongly on export (EU states, Japan, USA). Since 1996 owned by the Mellinghoff family of Bad Homburg, Germany.
---
Literature: A. Bangert, Thonet-Möbel - die Geschichte einer großen Erfindung, 1981; K. Mang, Thonet-Bugholzmöbel, 1982; A. v. Vegesack, Das Thonet-Buch, 1987; A. Bangert and P. Ellenberg, Thonet-Möbel - Bugholz-Klassiker von 1830-1930, 1993.
---