Theresianum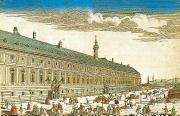 © Copyright
Theresianum. Watercoloured drawing.
---
Theresianum, institution established in the former imperial summer residence Favorita by Empress Maria Theresia in 1746 for the training of civil servants (Knights´ Academies); at first employed Jesuits as teachers and, after the abolition of the order, Piarists and secular teachers; combined with the Savoyan Knights´ Academy in 1778, abolished by Joseph II in 1783, reopened in 1791 under the name Theresianisch-Leopoldinische Akademie, open to non-aristocrats from 1849. From 1918 solely a Gymnasium secondary school (from 1925 a Realgymnasium secondary school) of the "Theresianische Akademie" foundation; in 1938 made into a National Political Institute of Education, which was dissolved in 1945, reopened in 1957 as a public Gymnasium secondary school (with boarding facilities).
---
Literature: Bibliographia Theresiana, in: Album der Theresianischen Akademie 1910-1938, 1978.
---
References to other albums:

---