Teurnia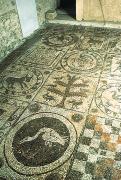 © Copyright
Teurnia: mosaic floor in the martyr chapel.
---
Teurnia (called Tiburnia in late Antiquity, today St. Peter in Holz, 4 km west of Spittal an der Drau, Carinthia), hilltop settlement (Holzer Berg) populated since 1100 B.C., after about 50 A.D., Roman city with forum, market basilica, capitoline temple, baths, housing terraces and temple dedicated to Grannus, Celtic god of healing. From the 4th century bishopric and from the 5th century fortified capital of the province of Noricum, and thus seat of the governor. Besieged by the Goths, peace treaty in 467, which secured the territory for Rome, an event celebrated in Rome on January 1, 469. Seat of the East-Gothic governor and an Arian bishop from 493 to 539. The city was abandoned during the Slavic migrations around 610.
Extensive excavations have revealed a residential building, the western gate of the late Antique city walls, the episcopal church with hospice, and the church outside the city walls with a mosaic floor in the martyr chapel in the south angle of the building. Numerous Roman reliefs and several other finds are on display in the Teurnia Museum, opened in 1913.
---
Literature: F. Glaser, Teurnia: Römerstadt und Bischofssitz, 1992.
---
References to other albums:

---