Technisches Museum Wien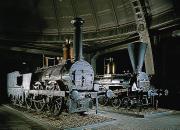 © Copyright
Technisches Museum: Ajax steam engine, 1841. Built by Jones, Turner & Evans of Newton, England, for the kaiserlich und königlich privilegierte Kaiser-Ferdinand-Nordbahn railway.
---
Vienna Museum of Technology (Technisches Museum Wien, Technical Museum), 14th district of Vienna, the only federal museum in Austria (Federal Museums) which focuses on the history of technology and the sciences, founded in 1908 to commemorate the 60th jubilee of the reign of Emperor Franz Joseph I. The museum building, designed by the architect H. Schneider, was completed in 1913, and the museum opened on May 6, 1918. It was nationalised in 1922. The predecessor to the museum, the "Cabinet of Factory Products" (transferred to the Polytechnic Institute in 1815), was established in 1807 under the rule of Emperor Franz I and was continuously enlarged with other collections (collection of tools, models, historical collection of artefacts, etc.). In 1854, the "Cabinet of Factory Products" and Emperor Ferdinand´s "Technical Cabinet" (founded in 1819) were combined to form the "Technological Cabinet". The gradual dissolution of the collections began in 1863 with the reorganisation of the Polytechnic Institute, which, in 1893, caused many exhibits to be transferred to the Museum of History of Austrian Labour, founded by W. Exner, and, finally, from there to the Vienna Museum of Technology. Reopened in 1999 after several years of reconstruction featuring state-of-the-art presentation of artifacts. Turned into a legally independent scientific institution.
---
Literature: Technisches Museum für Industrie und Gewerbe (ed.), Das Technisches Museum in Wien, 1982; H. Burger, Maschinenzeit Zeitmaschine. Technisches Museum Wien 1918-1988, 1991.
---