Stephan Viktor, Erzherzog von Österreich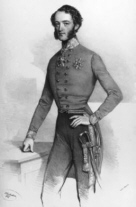 © Copyright
Archduke Stephan Viktor. Lithograph, J. Kriehuber, 1843.
---
Stephan Viktor, Archduke of Austria, b. Buda (Hungary), Sept. 14, 1817, d. Menton (France), Feb. 19, 1867, 1843-1847 Provincial Governor of Bohemia, 1847 palatine and governor in Hungary; mediator at the outbreak of the Revolution of 1848; on March 7, 1848 appointed prime minister; on July 2 opened the Reichstag in Buda; on September 25 resigned as governor. Fell into disgrace at court.
---
Literature: I. Deák, The Lawful Revolution. Louis Kossuth and the Hungarians, 1979.
---