Srbik, Heinrich Ritter von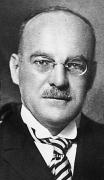 © Copyright
Heinrich Ritter* von Srbik. Photo.
---
Srbik, Heinrich Ritter* von, b. Vienna, Nov. 10, 1878, d. Ehrwald (Tirol), Feb. 16, 1951, historian. From 1912 university professor in Graz and 1922-1945 in Vienna, 1929/30 Minister of Education, 1938-1945 member of the "Grossdeutscher (Pan-German) Reichstag" and president of the Academy of Sciences; main exponent of a Pan-German conception of history.
---
Works: Die Beziehungen von Staat und Kirche in Österreich während des Mittelalters, 1904; Wallensteins Ende, 1920; Metternich, der Staatsmann und der Mensch, 3 vols., 1925-1954; Das österreichische Kaisertum und das Ende des Hl. Römischen Reiches, 1927; Deutsche Einheit, 4 vols., 1935-1942; Aus Ö. Vergangenheit, 1949; Geist und Geschichte vom deutschen Humanismus bis zur Gegenwart, 2 vols., 1950/51; Die geschichtliche Stellung Wiens 1740-1918, 1962 (with R. Lorenz); ed. of the "Quellen zur deutschen Politik Ö." 1859-66, 5 vols., 1934-1938.
Literature: MIÖG 59, 1951.
---