Seebenstein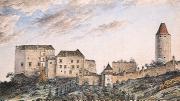 © Copyright
Seebenstein Palace. Watercolour by F. A. J. Freiherr von Wetzelsberg, around 1825 (Lower Austrian Provincial Museum, Vienna).
---
Seebenstein, Lower Austria, municipality in the district of Neunkirchen, alt. 348 m, pop. 1,139, area 9.09 km2, small summer tourist resort (10,281 overnight stays in 1992) in the Pitten Valley. - Camp of an infantry unit of the Austrian Federal Armed Forces, recreation centre and venue for seminars, Herminenstift convent (Schulschwestern), nature park (since 1987) and Seebenstein-Türkensturz recreation area; paper mill (partly belonging to the municipality of Pitten), trade and industry. - Late-Gothic parish church with wood carvings (around 1500), most important castle (documented mention in 1170) in the Pitten Valley, four gates, two of which with drawbridges extending to the gatehouse, castle keep (12th /13th centuries), partly converted into a palace and altered in Renaissance style, the palace was extended into two parts around 1604, the higher-lying pentagonal part with four storeys, Gothic winged altar (16th century) in the chapel, 1790-1823 seat of the Romantic association "Wildenstein Knighthood on blue Earth" ("Wildensteiner Ritterschaft auf blauer Erde"), fountain decorated with wrought iron (1600) in the courtyard; the art collection contains a statue of the Virgin Mary by T. Riemenschneider, paintings, weapons and furniture; New Palace (1733) with English park; late-Gothic parish church (1525, restored 1849-1853) with late-Gothic entrance portal, wood carvings and grave monuments decorated with figures (15th -17th centuries).
---
Literature: F. Takacs, Burg und Herrschaft Seebenstein, doctoral thesis, Vienna 1954.
---
References to other albums:

---